ASUS VG248QE Gaming Monitor -24" FHD (1920x1080) , 1ms, up to 144Hz, 3D Vision Ready
Ultra smooth action with 144Hz rapid refresh rate and 1ms (GTG) response time
Full HD 1920x1080, 80,000,000:1 ASUS Smart Contrast Ratio, and 350cd/m² of brightness for like-like visuals
A comfortable viewing experience with ergonomic tilt, swivel pivot, and height adjustment
Featuring DisplayPort, Dual-link DVI-D, and HDMI ports for multi device connections
Built-in 2W stereo speakers for an immersive home entertainment experience
Conventional 60Hz LCDs show extensive motion blur, and can be distracting when playing games with fast movement. The ASUS VG248QE 144Hz fast gaming monitors half the effects of motion blur to deliver a perceivable difference for natural movement and crisp edges on fast paced gaming environments.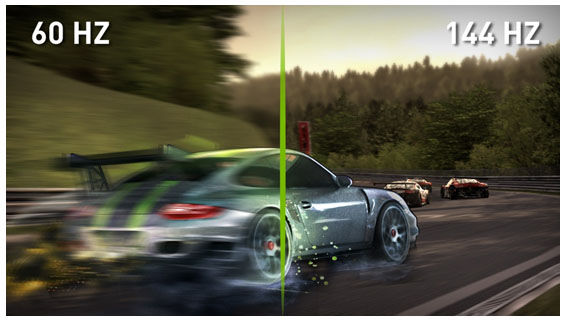 User-friendly gaming experience design
As with most ASUS displays, the VG248QE has an ergonomic design, with tilt, swivel, pivot and height adjustment to give users a comfortable viewing experience.

Extensive connectivity and built-in stereo speaker for multimedia enjoyment
The VG248QE is compatible with the NVIDIA 3D Vision® 2 kit** through DisplayPort and dual-link DVI, providing support across three Full HD displays for an immersive multi-display 3D gaming experience. DisplayPort, HDMI, and Dual-link DVI-D ports ensure extensive connectivity and compatibility with a variety of multimedia devices including Blu-ray disc players or game consoles; while built-in 2W stereo speakers further add to an immersive home entertainment experience.