Dell Precision Tower 3630 Intel Xeon E-2124G 8GB DDR4 1TB HDD Win10 Pro for Workstation – 3Yr
Small but mighty VR creation
Harness the power of workstation performance, VR content creation and reliability in an affordable, smaller yet expandable tower design.
Overview
Features and Design
Operating System
Available with Windows 10 Pro – for a smooth, versatile PC experience.
Unmatched performance and affordability
Get ultimate power without sacrificing your budget on the affordable Dell Precision 3000 Series workstations. Elevate your ideas with professional performance, compact industrial designs and Dell's Reliable Memory Technology Pro.
Make room for your ideas
Small space? No problem: Your Precision 3630 Tower features a new industrial design that's twenty-three percent smaller than the previous generation with more expandability.
Premium design: Handle demanding tasks with ease thanks to premium materials that leave a small footprint without sacrificing quality. And the optional external dust filter keeps those superior internal components pristine.
Quick accessibility: A range of easy-to-reach ports keep you connected to everything you need while the optional Smart Card (CAC/PIV) seamlessly keeps your IP secure.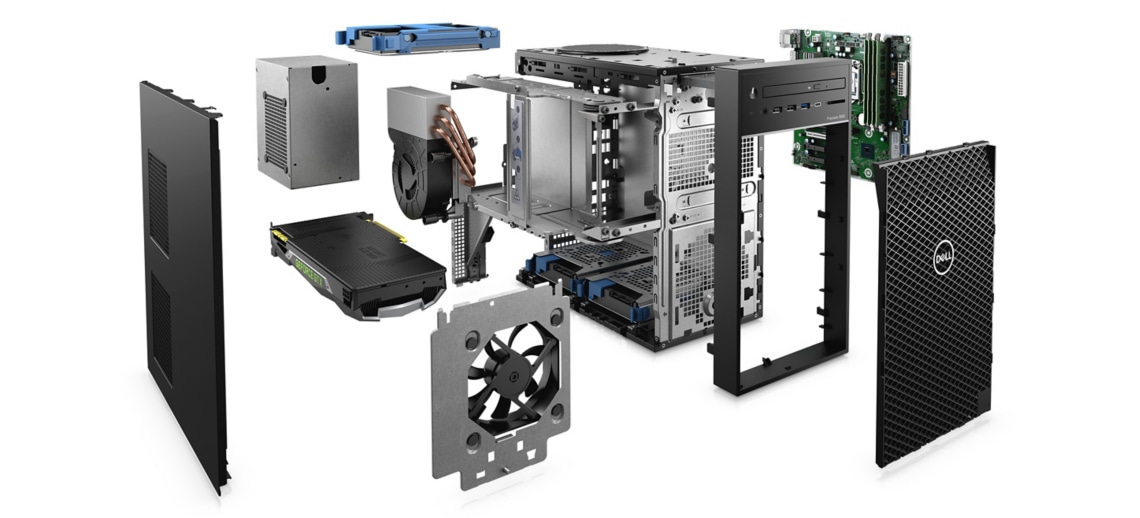 Professional performance
Blaze past limits: Power through intensive tasks thanks to the latest 8th generation Intel® Core™ and Xeon® Processors and faster memory speeds of up to 2666MHz 64GB.
Expandable and flexible: Scalable storage featuring SATA, SAS and PCIe NVMe SSDs can be configured for up to 14TB delivering top performance for complex projects. Plus, Intel® Optane™ Memory massively boosts your system's responsiveness while keeping high capacity storage costs to a minimum.
Boot up faster than ever: Launch your most-used files and applications in a flash with optional Intel® Optane™ memory. Adaptive to user needs, it preloads and accelerates frequently used applications and files, providing better responsiveness without compromising storage capacity. Everyday tasks are up to twice as responsive with Intel® Optane™ memory.*
Ready for VR
Prepare yourself for impressive VR in the surprisingly affordable Precision 3630 Tower. Next generation AMD Radeon™ Pro and NVIDIA® Quadro® professional graphics with up to 225W of graphics support handles VR content creation with workstation-class performance you can count on
Reliability when you need it most
Work without fail: When there's no margin for error, Dell Reliable Memory Technology (RMT) Pro protects your work from potential crashes. Dell's exclusive, RMT Pro works in conjunction with ECC memory to detect and quarantine memory errors in real time.
Independent Software Vendor (ISV) certification: Precision Workstations are tested to ensure the high-performance applications you rely on every day run smoothly. Dell ISV-certifications cover the most popular independent software applications.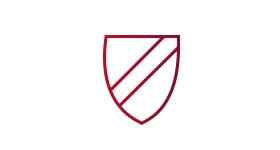 Secure
With Dell Data Guardian, you can protect your data regardless of how it is used, shared or stored throughout your ecosystem. Data security that pairs and stays with the data, allows you to collaborate and share your cutting-edge content in a cutting-edge way.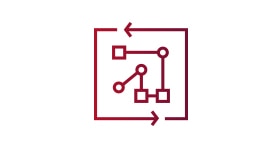 Manageable
Experience the world's most manageable line of commercial PCs featuring the free Dell Client Command Suite toolkit for flexible and automated BIOS and system configurations. The optional vPro extension allows for out-of-band systems management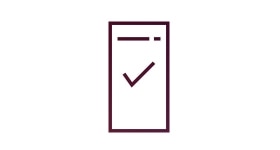 Reliable
Dell commercial PCs have the lowest reported failure rate. They are tested to ensure the high-performance applications you rely on every day run smoothly.
Ports & Slots
1. Power Button | 2. Universal Audio Jack | 3. USB 2.0, Type A | 4. USB 2.0, Type A | 5. Optical Drive (Optional) | 6. SD Card reader (Optional) | 7. USB 3.1, Type C [10Gb] | 8. USB 3.1, Type A [5Gb] | 9. PS2 Keyboard | 10. PS2 Mouse | 11. DisplayPort (2) | 12. USB 2.0 Type A (with SmartPower) (2) | 13. USB 3.1, Type A (4) | 14. Universal Audio Jack | 15. Kensington Lock slot | 16. PCU | 17. RJ45 Network Connection | 18. Power Connection
Dimensions & Weight
1. Height: 335mm (13.19″) | 2. Width: 176.6mm (6.95″ ) | 3. Depth: 345mm (13.58″) | Minimum weight: 9.358kg (20.63lb)
Short Tech Specification

Precision Tower 3630 -Windows 10 Pro for Workstation (up to 4 Cores), Intel Xeon E-2124G, 4 Core, 8MB Cache, 3.4GHz, 4.5Ghz Turbo, 8GB 2x4GB 2666MHz DDR4 non-ECC Memory, 3.5″ 1TB 7200rpm SATA Hard Disk Drive , Intel Integrated Graphics
Detailed Tech Specification

Precision 3630 Tower CTO BASE
Intel Xeon CPU label
Intel Xeon E-2124G, 4 Core, 8MB Cache, 3.4GHz, 4.5Ghz Turbo
No ESTAR
Boot drive or storage volume is greater than 2TB (select when 3TB/4TB HDD is ordered)
Precision 3630 Tower with 300W up to 85% efficient PSU (80Plus Bronze) no SD card reader
ODD config, 3630
Thank You for Choosing Dell
Shipping Docs – English, Arabic, French, Turkish, Portuguese
Quick Start Guide
Dell Precision TPM Info
Ship Material Tower3630 EMEA
Dell Digital Delivery Cirrus Client
8GB 2x4GB 2666MHz DDR4 non-ECC Memory
3.5″ 1TB 7200rpm SATA Hard Disk Drive
No Additional Hard Drive 100 ZR
Dell Precision Tower 3630 Heatsink (80)
8x DVD+/-RW 9.5mm Optical Disk Drive
UK Power cord
No UPC Label
Precision 3630, 300W Reg Label EMEA
Intel Integrated Graphics
No PCIe add-in card
Additional HDMI 2.0 Port
No Additional Network Card Selected (Integrated NIC included)
No Wireless LAN Card
No Wireless LAN
Dell Optical Mouse – MS116 – Black
Dell Multimedia Keyboard – Arabic (QWERTY) – Black
Windows 10 Pro for Workstation (up to 4 Cores) Multi – English, Arabic, French, Russian, Turkish
OS-Windows Media Not Included
Microsoft Office 30 Day Trial – Excludes Office License
Intel vPro Technology Enabled
CMS Software not included
Waves Maxx Audio
Dell Applications for Windows 10
Dell Developed Recovery Environment
Dell Precision Optimizer
SupportAssist
No Anti-Virus Software
C1 3.5 HD + 3.5 1-2 HD
No Raid
Not selected in this configuration
Custom BTO Configuration
Base Warranty
1Yr Parts Only Warranty
Declined ProSupport
INFO 1Y Basic Onsite Service (Emerging Only)
3Y Basic Onsite Service (Emerging Only)